Genderhood and Servicio Civil Internacional Madrid launch #RaiseVOLUMEN campaign to promote Gender Equality and Community Engagement in Youth
Genderhood and SCI Madrid, both leading advocates for gender equality and community development, are excited to announce the launch of their awareness campaign, #RaiseVOLUMEN. The campaign aims to transform societal attitudes towards inclusion and celebrate diversity while promoting sustainable development and active citizenship.
#RaiseVOLUMEN is an initiative with a multifaceted approach to address various aspects of gender mainstreaming, community work and volunteering. With an intersectional and proactive standpoint, the campaign seeks to promote a cultural change towards a society that embraces, values and respects all individuals, regardless of their gender identity or expression.
Campaign's goals for gender eqaulity
The campaign's objectives are aligned with the organizations' mission to foster positive change and empower communities with fewer opportunities. These goals include:
Promote sustainable development via personal development and raise of self-esteem: The campaign recognizes the importance of personal growth and self-esteem in achieving sustainable development. Through various initiatives and activities, participants will be encouraged to develop their skills, knowledge, and confidence.
Enhance initiative taking: #RaiseVOLUMEN aims to empower individuals to take the initiative and drive positive change within their communities. By providing resources and support, the campaign seeks to inspire people to become proactive agents of social transformation.
Build resilience in the local community and volunteer work: The campaign emphasizes the significance of community resilience and the transformative power of volunteer work. Through active community involvement, #RaiseVOLUMEN seeks to build stronger and more cohesive communities that can effectively address challenges and contribute to sustainable development.
Encourage participation in active citizenship (volunteering, community work): Active citizenship is vital for building inclusive societies. The campaign will encourage individuals to actively participate in volunteer activities and community work, fostering a sense of responsibility and solidarity.
Advocate for the visibility of the LGBTQI+ community: #RaiseVOLUMEN is committed to advocating for the visibility and rights of the LGBTQI+ community. By shining a light on the unique experiences and challenges faced by the LGBTQI+ community, #RaiseTheVOLUMEN aims to foster understanding, acceptance, and equal rights for all individuals, regardless of their sexual orientation, gender identity, or gender expression.
Boost respect for diversity: The campaign seeks to challenge stereotypes and biases by promoting respect for diversity. By celebrating the richness of different backgrounds, identities, and perspectives, #RaiseVOLUMEN aims to foster a more inclusive and harmonious society.
Develop a culture of inclusive use of language: Language plays a crucial role in shaping attitudes and perceptions. The campaign will promote the use of inclusive language, which acknowledges diversity, conveys respect to all people, is sensitive to differences, and promotes equal opportunities.
Reconsider positions of power and privilege: #RaiseVOLUMEN encourages individuals to reflect on their positions of power and privilege and to deconstruct them. The campaign aims to create a more equitable society by challenging existing power dynamics and promoting inclusivity.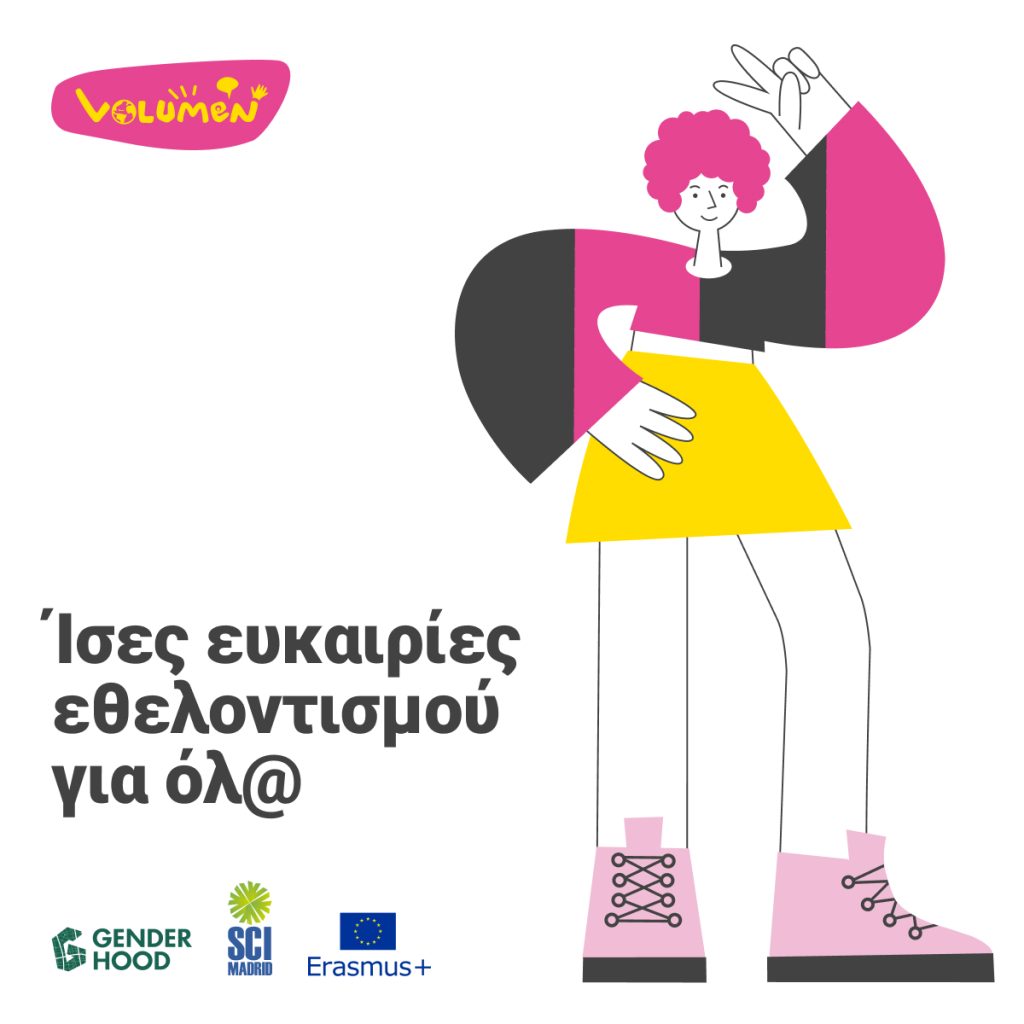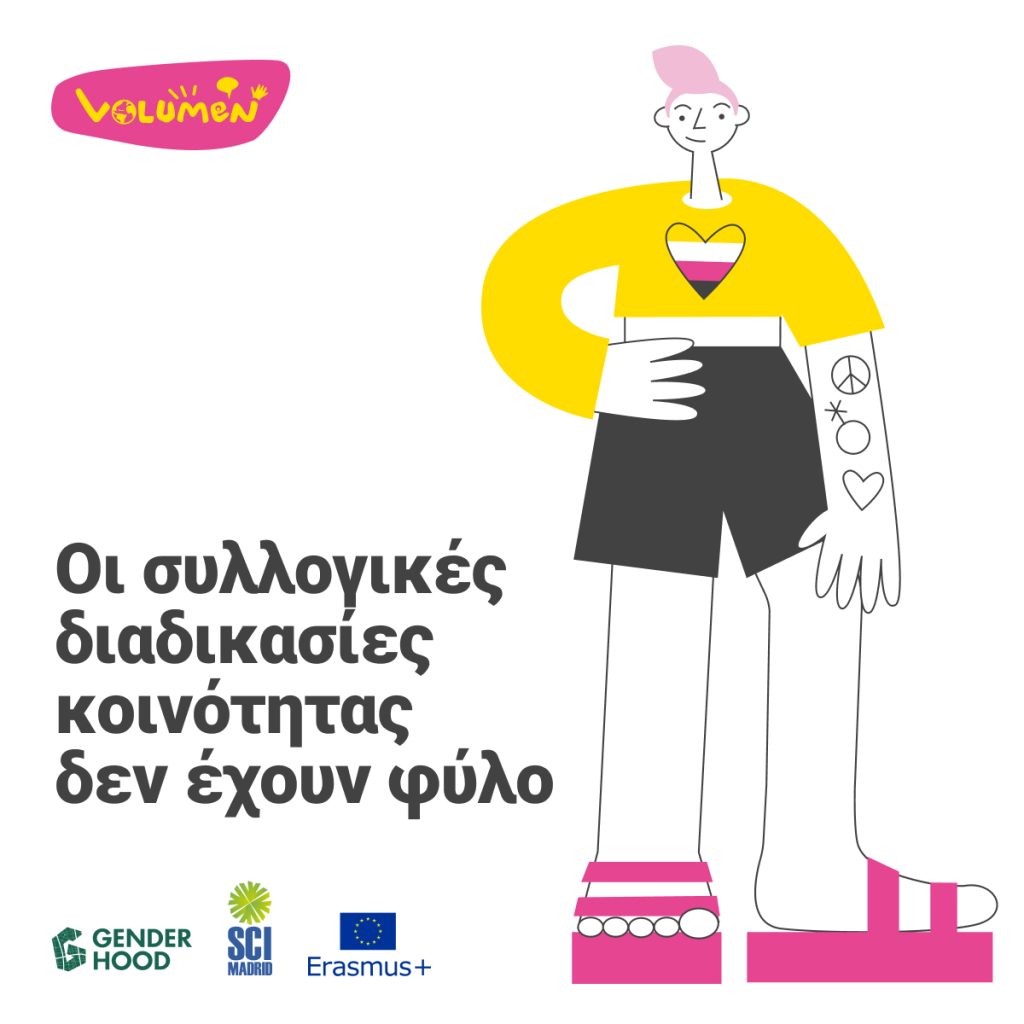 Gender mainstreaming, aligned with the principles of sustainable development and Agenda 2030, recognizes that gender equality is not only a matter of social justice but also a prerequisite for achieving broader developmental goals. By integrating gender considerations into volunteering and community work, we can work towards more sustainable and inclusive societies.
Genderhood and SCI Madrid invite individuals, community organizations, and the media to join the #RaiseVOLUMEN campaign and be part of the movement towards a more inclusive and equitable world. Together, we can make a difference and create lasting change.

The campaign is part of the #VOLUMEN project, implemented under Erasmus+ by Genderhood and Servicio Civil Internacional.
The campaign will be on all social media @Genderhood from June to Juuly 2023.